Care, compassion, love, understanding and support.
A Wilson Family Funerals service is particularly meaningful because its uniquely personal to a family's needs and wishes.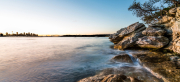 The Wilson Family Funerals story
Wilson Family Funerals is a local family Northern Beaches funeral home owned and operated by Ann Wilson, her daughter Kate Wilson and Ann's brother John Garling. Our family has been serving the community since the 1980's. We are located on Sydney's Northern Beaches although we care for all areas of Sydney. 
---
Ann started her first family owned funeral business, Ann Wilson Funerals in Mona Vale in 1995 with her brother John. They built the business by providing local families with care, compassion, love, understanding and support in their time of need.  Although the original business was sold to an Australian public company in 2005, Ann, John and Kate continued to work in Ann Wilson Funerals until late 2019. 
In mid 2020 Ann, Kate and John saw the need for a more personalised service by a family owned and operated Northern Beaches funeral home. They also saw the importance of being able to provide their own facilities and give families the personal care, guidance and support they need at a very difficult time. 
Ann and Kate and their team are available to personally talk with families 24 hours, seven days a week. 
With decades of experience families know they can trust the Wilson family to care for their family. 

Ann Wilson
Ann Wilson began her career in funerals in 1980. In 1995 Ann started her first business, Ann Wilson Funerals, together with her brother John. Although the business was sold in 2005, they continued to build the business by providing local families with care, compassion, love, understanding and support in their time of need. Ann, John, and Kate worked for the business until 2019.
In 2020 Ann, her daughter Kate and brother John formed a new business Wilson Family Funerals. The family came together again to provide a personalised funeral service. Ann saw there was a need to have their own facilities to care for families of loved ones in their own modern facility at Warriewood also owned and operated by the Wilson Family.
"For me funeral directing is a vocation. If you just love what you do, and you love the families you are working with, why not continue doing it?" says Ann.

Kate Wilson
Kate was born and raised on the Northern Beaches. Kate was involved in the family funeral business for over a decade, working alongside her Dad Bob, Mum Ann and Uncle John. Kate took a different path into business and accounting studies, before joining Ann and John back in the funeral business. 
Kate was very young when her Mum and Uncle began their funeral careers and has been raised in this caring and professional environment, learning from what she describes as two people in her life that she admires and respects.
John Garling
John, Ann's brother has been as Funeral Director for over 40 years. For the last 25 years Ann and John have worked together. John is local to the Northern Beaches and continues to work along side Ann and Kate. He conducts many of the services, bringing with him decades of experience.
"We have always been a close family and trust and respect each other. We're also a great team always working together with the same values," says John.