Our Mission is to always provide a quality and professional funeral service that will exceed a family's expectations.
Image: Tea Tree Flowers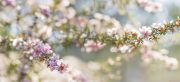 What we offer
We offer a full range of services to meet the needs of all faiths and cultures. These range from traditional to contemporary styles of funeral services. Each is uniquely personal to a family's needs and wishes. 
Our experienced team can
Meet with you and family members in the comfort of your own home or in our new arranging rooms at North Narrabeen to plan the details of the service 
Help families in their choice of a cremation or burial
Obtain all the necessary doctor's papers for the Death Certificate from the Registrar
Arrange for a member of the clergy, or a qualified celebrant to lead the service 
Prepare and post notices including those to the Wilson Family Funerals website advising relatives and friends of the funeral details 
Sensitively guide the choice of floral tributes, music, picture presentations, order of service  and coffin or casket 
Organise the repatriation of a deceased loved one overseas
Cemeteries and memorial parks
Sydney's Northern Beaches and North Shore are blessed to have some beautifully appointed and cared for memorial parks, gardens and cemeteries. To assist families in choosing the best and most appropriate location in which preserve the memory of a loved one, the team at Wilson Family Funerals can help families by suggesting and giving options to help make a choice that is meaningful to your family.
There are many venues such as churches, clubs, outdoor parks, along with cemeteries and crematoriums. Below are just a few of the venues in the area.
Talk with Ann Wilson and her team for recommendations on different venues, on 02 9913 7131.

Frenchs Forest Bushland Cemetery
The Frenchs Forest Bushland Cemetery in Davidson occupies some 22 hectares of Hawkesbury sandstone bushland. The first burial took place here in 1940. Set amongst the tranquil bushland a range of burial and cremation options are offered.

Macquarie Park Cemetery and Crematorium
Set on 145 acres of maintained grounds the Macquarie Park Cemetery and Crematorium has served Sydney's North Shore community since 1922. Burial options range from simple lawn to monumental sites. A range of cremation options are also offered.

Northern Suburbs Memorial Gardens and Crematorium
Inspired by Northern Italian architecture, architect Frank Bloomfield designed Northern Suburbs Memorial Gardens and Crematorium in the late 1920's. Art deco statues completed the works when it opened on 28 October 1933.