Our Mission
We will always provide a quality and professional funeral service that will exceed a family's expectations.
Image: Geraldton Wax Flower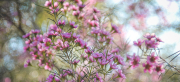 Our promise
Ann, Kate and John know the importance of providing families with care, compassion, love, understanding and support in their time of need. 
You'll find a Wilson Family Funerals service is particularly meaningful because it is uniquely personal to a family's needs and wishes. 
Our team is available 24 hours, 7 days a week. 
Funeral Costs
As an easy and clear guide to pricing for the services offered by Wilson Family Funerals we have created a Funeral Information Pricing Schedule. Our schedule was developed in accordance with the NSW Fair Trading Act.
Please click on the link below to download the guide.