Guided by care, understanding, and love, Wilson Family Funerals crafts services that are distinctively tailored to the individual needs and wishes of each family.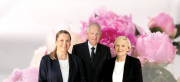 Funeral Directors Near Me
---
Wilson Family Funerals on Sydney's Northern Beaches
---
Searching for a "funeral home near you" on the Northern Beaches of NSW? Look no further. Whether you're in need of affordable funeral services or cremation options in the area, including nearby regions like Hills District and North Shore NSW, Wilson Family Funerals is your trusted companion.

Your Local Funeral Director Near You On The Northern Beaches
With so many funeral homes serving families in Northern Beaches NSW, finding the right "funeral director nearby" can feel overwhelming. At Wilson Family Funerals, we pride ourselves on our commitment to families, offering guidance and support at every step, ensuring a dignified and honorable service for your loved one.
Choosing the Right Funeral Parlour
When you type "funeral parlour near me" into your search engine and hope for the best, this can seem kind of risky. With decades of experience and countless families who have been helped in this special time of need, our compassionate experience, provides reassurance you are in good hands.
So you can be confident to let Wilson Family Funerals be your first choice. Our team is dedicated to serving your family with compassion and care during these difficult moments.

Discover Our Services Today
---
Wilson Family Funerals is more than just a funeral home; we're a pillar of support for our community. Get in touch with us today to find out more about our reasonably priced funeral and cremation services, and let our experienced team, lead by Ann Wilson guide you during this challenging time.
Contact
For venue recommendations and further guidance, please connect with Ann Wilson and our dedicated team at 02 9913 7131.